June 2002 - Brian Faughnan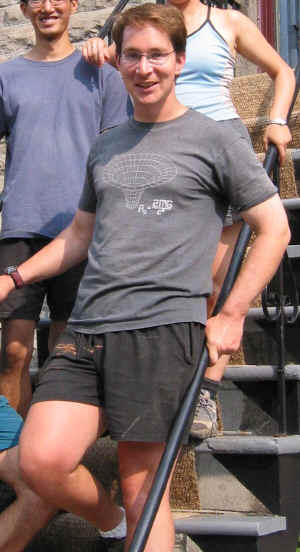 Did you see Brian on or after July 11th, 2002?
If you saw Brian on the evening of July 11, 2002, or any time since, that information could be invaluable to his friends and family. Any sighting can be of great value, we are also seeking reports from anyone who traveled those trails.
Brian was last seen Friday July 12th at 10:30am leaving the vicinity of the Shoestring Lodge in Whistler, BC, Canada on a day hike. We have no record of him being seen since then.
Perhaps you saw him walking by, or spoke with him. He is a fast hiker, and he might have passed you on a trail. If he had you might have seen a yellow day pack with an ice-axe on the back. He might have been coming up the mountain trail that you were going down, since he started later in the day. He was probably wearing shorts and a t-shirt when he left the Lodge, and we think he carrying a medium-sized yellow frameless backpack with an ice-axe. He might have had a denim baseball cap on. A red jacket might have been strapped to the outside of the pack. That Friday was a comfortable sunny day, as were the days before. Early Saturday morning the weather would turn rainy, cool, and foggy.
Brian would have struck you as a tall (6'0"), strong, pleasant faced tanned athletic man in his early thirties. If you spoke with him you might have noticed some scarring of his left lower arm (old fracture). He was blind in the right eye, and if you spoke he might have turned slightly to see you with his left eye better. When he's hiking vigorously his face turns quite red, particularly on the right side.

Brian's passions have been mountains, the outdoors, and film. Prior to moving into film he worked as an aerospace engineer. He might have spoken of living in Montreal, and having recently traveled to Vancouver to go exploring with a friend. He was on the first day of a BigFoot Tours bus outing that was going on to Banff.

Brian is a very strong hiker and a mountaineer. Perhaps you saw him off trail somewhere in the Whistler area that day or the next day.

If you saw Brian at any time around then, or certainly on the 12th or later, PLEASE contact his family or the RCMP. For more information, see www.faughnan.com/brian.html.